What did I learn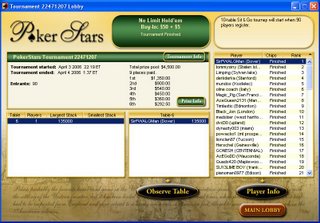 So what did this teach me? Well.. I learned it is not worth fighting over the last $400 when you are both from the East Coast and you can make a deal. I learned that I HATE PEOPLE WHO PLAY .25/.50 LHE so much that I would kill one on site. I learned that torturing myself at low limit LHE hurts.. alot.. and I will never do it again. I will also not be tilting anytime soon, because, even though it was only a day it sucked. I learned that I do really good when I play angry I hate you maverick poker. I learned that my last (x) dollars is usually good for a huge win in the 180/SNG or the 90/SNG. I learned that the 90/SNG is alot easier than the 180/SNG and I like my chances against any random 90 donkeys. I learned that Gavin Smith is a great player featured on Card Player and I knocked his AQ loving ass out of the tourney so I am better than he is and I should be on Card Player.
Ok.. Ok. I might be pushing that last one a little. Props to Gavin for pushing his AQ against my 88 with an M<5. If he won that hand I would have been the short stack and he would have gone on to win the whole thing like me.
Anyway I am exhausted as I always am when I play my best. I am elated at winning 1125 after the split. I am greatful to have a bankroll for the 1/2 LHE game again and I am going to sleep.